Saturday, April 7th 2012
Garbage played their first show in seven years last night at the Bootleg Theater in Los Angeles. Billed as a warm-up show for their upcoming tour, they played a twenty song set balanced with hits and deep cuts lasting almost two hours.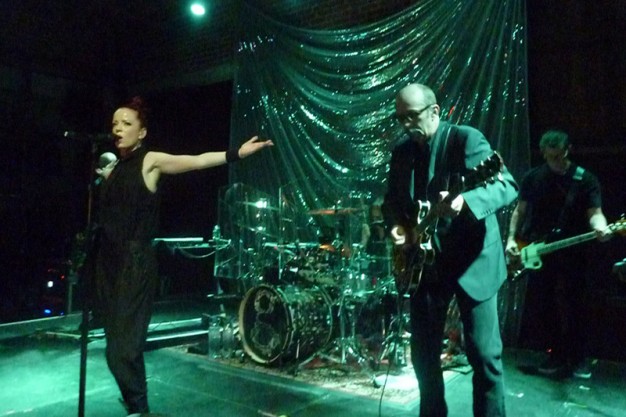 Shirley Manson was joined by original members Duke Erikson, Steve Marker, Butch Vig. Eric Avery of Jane's Addiction fame is accompanying them on this tour as well.
Shirley and her boys seemed in great spirits throughout the night. They seemed to genuinely enjoy playing to a crowd again and the energy was high. Shirley in particular was interacting and feeding off of the crowd during Shut Your Mouth, with a huge smile splashed across her face the entire time. Shirleys delivery during SYM had a much more freestyle hip-hop vibe to them than they do on the studio track.
Shirley took time to mention that she was nervous before the show: "It's been 7 years, but I know tonight I'm with family. A lot of things happened since we last saw you. None of us up here thought we'd get to this point. Let me say, for the record, we've made you an amazing record."
A few technical difficulties peppered the set, but were handled with levity. Shirley joked with the crowd and even took time to sign an autograph. They played a few songs off the new album. "Anyone want to hear a new song?" asked Butch Vig, before launching directly into Blood For Poppies which has a bit more bite live than the album version.
Man On A Wire, a new song which Shirley proclaims is her favorite off the new album, is a jamming little number with riff not unlike the Death From Above 1979 song Romantic Rights. Shirley really came alive and showed us that she has more than a little spunk left in her. She's back and she is not fucking around.
The main set closed with an Only Happy When It Rains and Push It splenda package of excellence. Shirley started off with a soulful intro to Only Happy before allowing it to turn into a joyful sing-a-long.
The final song was another new track, Battle In Me. Shirley told us the story of the songs birth, "We met up in a studio in LA for the first time in six years. We laughed together, we drank together, and then we wrote this song. When we were done we all knew we were going to make something amazing" She wasn't lying.
Setlist:
Supervixen
Temptation Waits
Shut Your Mouth
Metal Heart
Queer
Stupid Girl
Why Do You Love Me
#1 Crush
Trick
Vow
Blood For Poppies
Man On A Wire
Milk
I Think I'm Paranoid
Bad Boyfriend
Only Happy When It Rains
Push It
Special
The World Is Not Enough
Battle In Me
Look for the new album Not Your Kind Of People on May 22nd and be sure to catch them at any of their upcoming shows which can be found at http://garbage.com/tour.
Photos by Kristen Coveleskie.