Thursday, May 10th 2012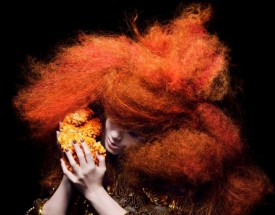 Last month, Björk started bringing her Biophilia concerts to South America. As the singer had planned to alternate between one-city residencies and festival appearances throughout the tour, she first performed a headlining slot at Lollapalooza Chile, and went on to a residency in Buenos Aires, Argentina. Unfortunately, during that series of shows, she discovered a nodule on her vocal chords, which prevented her from singing live, and led to the cancellation of the two remaining dates in Argentina, and one in São Paulo, Brazil. As it turns out, her recovery wasn't as fast as she'd hoped, leading to several other cancellations in Europe.
Today, Björk issued an official statement on her Facebook page, confirming which European shows were cancelled, and apologizing for any inconveniences caused by the incident:
"hi folks
i am sorry to announce I will not be able to play primavera sound (spain) , optimus primavera sound (portugal) , balaton sound (hungary) and afisha picnic (russia) 2012 .
after 2 weeks of voice rest i went to my vocal doctor and she came to this conclusion : i need to rest for 6 more weeks . the good news is that we both feel pretty confident i can start singing fully healed in the middle of june .
in the beginning of biophilia , we estimated that doing 3 residencies a year with couple of months between would be a rhythm my chords could take . then i got overexcited and when we threw the festivals into the mix and only leaving 2 weeks between new york shows and south america was too eager beaver … the drop that filled the meter …
i am very sorry and embarrassed about having to cancel things and having promised things and then not being able to keep my word , truly breaks my heart . especially to people who have already bought tickets .
meanwhile biophilia has become its own feisty plant growing all different directions . and it isnt all bad . it has a lot of fun sides like for example the educational angle : reykjavík´s and buenos aires city school curriculums have now embraced biophilia educational program into their schools and we are partnering with the new york public library and the children's museum of manhattan to launch biophilia as learning resource for new york's children in july 2012 .
but in the meantime , i will rest and reschedule and make a promise to my chords and especially those who want to listen to them that even though my mind and my intention gets overexcited and runs ahead , i will from now on allow breaks between "legs" of tours to reassemble …
because like that i can give better
warmth , björk."
As the statement says, Björk plans to be well-recovered by June, by which time we assume more tour dates will be announced. Meanwhile, you can pick up Biophilia here.