By Reverend Justito at 12:51 PM Friday, March 8th 2013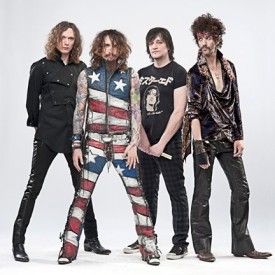 It has been said before and it will be said again, when it comes to The Darkness, you either love them or hate them. For those who hate them, feel free to hit mute on the below video and add your hatorade via comment below. For those who love them, rejoice in the fact the boys are back with a brand new video.
This time out the video is for the Hot Cakes track With A Woman. The video starts out in typical rock video fashion as a young male is forced to head to the dirty school restroom and relieve himself after a hot strip tease courtesy of his teacher. Things don't get weird until the end when the teacher is magically transformed into the bear from the Everybody Have A Good Time music video. Check it out the borderline NSFW video down below.
The Darkness will return to North America for a brief tour this May. You can check out the dates down below.